With the rapid development of injection molding, extrusion, calendering, molding, lamination, and other processes, the mold release agent is widely used in those fields. The quality of the release agent determines whether a high-quality mold can be produced. Meiyahg has more than 20 years of mold release agent manufacturing experience, and its products are sold to more than 30 countries around the world, and have been recognized by many customers. We strictly control every step of the process of release agent. The following shows the mold release agent manufacturing process and how to choose the right mold release agent for your product.
Mold Release Agent Manufacturing Process
1、Firstly, select excellent raw material. The component of the release agent is mainly lubricant, organosilicon, and additive. In the production, the Sakurai release agent is made of top quality lubricants and silicone oil from the worldwide,e.g. Shin-Etsu, Dow, Dow Corning and other well-known manufacturers of raw materials.

2、Before putting in a warehouse, we take small samples from the selected raw material for strict testing in the laboratory. We use qualified material only.

3、During mass production, the raw materials are mixed accordingly by formula, precisely control the mixing ratio, blending, and chemical reaction.

4、Put the blended liquid into reaction equipment, setting the temperature and reaction time, proceed to the emulsification and other reaction processes. The process of full reaction is extremely important, directly affect the quality of the release agent.

5、Take a small amount of the finished product and use a testing instrument to observe whether the release agent is fully reaction and formulated. We collect the index of solid content, lubrication and other data, to compare with the standardization, and finally determine the release agent is qualified or not.

6、Apply some release agent on the mold for practical testing, to test the performance of demoulding, adhesion force,film-forming, fluidity and so on. Each batch release agent must be sampling tested, which ensure our quality conform to industrial criteria.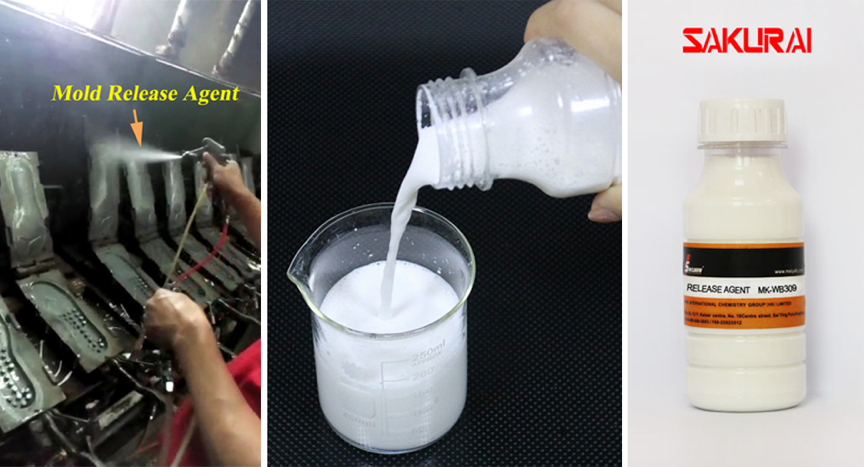 7、The qualified release agent is packed into various size packaging, seal up the container and stored under room temperature and ventilated condition.

How to choose mold release agent?
There are different types of mold release agents for different products, and we should select the mold release agent matching the materials of finished products.
Using and applying conditions
The key factors to select the release agent include mold temperature, dilution ratio, molding time, mold structure complexity and so on.
The different mold release agents have different performance in terms of mold release force, post-processing, environmental protection, drying and cleaning time, etc. According to practical production requirements, we can choose the proper mold release agent through weighing the performance and production indicators, etc.
Release agent brand is numerous, and some release agents are divided into low-end, medium-end and high-end. Sakurai release agent is focused on the medium-high end of release agent production. Since our technical breakthrough, spray once mold release agent can use for several times demoulding, so it's very high-cost performance and it can efficiently reduce the consumption cost for end-users.
Quality mold release agents are essential
Any industry that works in any kind of molding cycle knows that the quality of the molding agents is going to play a major role in their workflow and their ability to maintain a good level of productivity. This is the main reason why the use of quality mold release agents is so important.
This is the main reason why Dongguan Meiya Chemical Co., Ltd is constantly looking for ways to upgrade the quality of their release agents in order to ensure the most productive cycles. This is something that we have managed to do after many years of research and development for our mold release agents.
We specialize in the process of metal casting release, polyurethane release, and composites release. The level of quality that we bring into each project allows us to maintain a high standard that our customers have come to expect from our products.
We are heavily involved in this industry with more than 20 years of experience and this has allowed us to grow into the company we are today. We are firm believers in the importance of upgrading our quality, which is why we are always looking for ways to evolve and make our top quality mold release agents even better.
We have an outstanding level of production capacity with up to 150 tons per day to ensure that all of our customers get their supply. We are also environmentally aware ad we know the importance of maintaining the highest standards of environmentally friendly products.
You can be sure that our customer service department is always going to be ready to answer any questions you might have. Our goal is to be the number one mold release agent provider in the world, and our long line of satisfied customers takes us one step closer to that goal day by day.
Final thoughts
The creation of top quality mold release agents is very important in order for customers to feel happy with the results they get. Maintaining the highest standards is something we consider a priority and we are always working hard to ensure that our supply of mold release agents provides the results expected in this industry.