Die Casting Mold Release Agent
Meiyahg is one of the leading mold release agent manufacturers and provides the most technologically advanced Metal Die Casting Release Agent solutions with incredibly effective release properties. Meiyahg has been offering its specialist services since 1976.  Their technology and processes stand on decades-long research and technical expertise.
Metal Die Casting Mold Release Agent Types
At Meiyahg we offer different types of SAKURAI Die Casting Release Agents that you can use according to your needs. Following are the types we offer:
---
Buyer's Guide About Mold Release Agent For Metal 
Meiyahg
, one of the top mold release agent solution suppliers, has been focused on chemical release agent manufacturing for over 20 years. Our product series brand is
SAKURAI-SAKURAI is a brand of Sino-Japan joint venture, our technology and formula are came from Japan, the production base 
is located
in China's mainland
.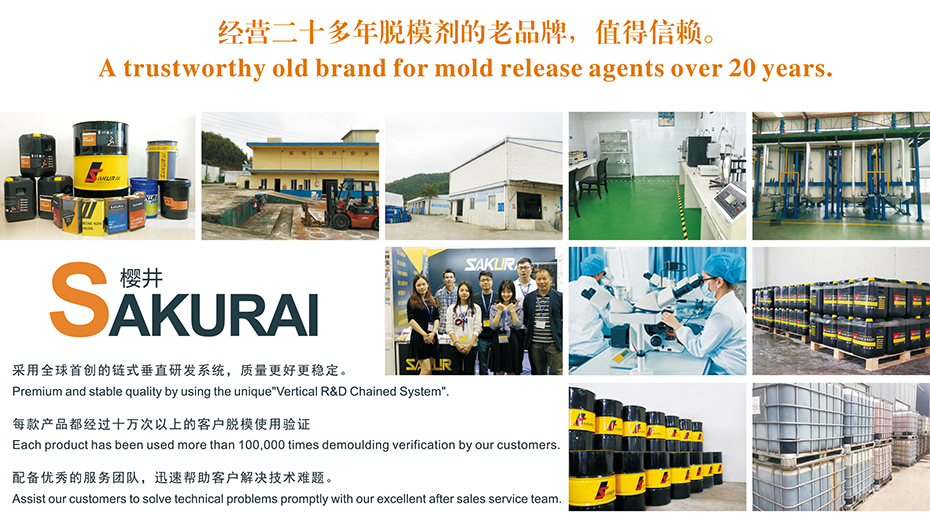 We use the strongest release high-quality release agents and their correct application to achieve a highly uniform product quality of castings. Therefore, our
die casting release agent
is preferred by various industries all around the world to make sure cost-effective, efficient, and high-quality release of their molded parts.Release properties of our products work with all materials such as zinc, aluminum, steel, brass, and magnesium, etc. Our products are formulated to provide reliable release characteristics without building up on the mold surface. The reduced buildup will surely cut down on cleaning time and frequency as well as reduce rejection rates due to poor surface finish or failed release. Meiyahg offers both water and oil-based formulations with low VOC, and low odor.
Introduction About Die Casting Mold Release agent
Mold release agent is an interface coating used on the surface of two objects that are easily adhered to each other, which makes the surface of the object easy to detach, smooth, and clean.Metal die casting release agents are mainly used in various molding operations for aluminum, magnesium, zinc, and other metal materials. In die casting, sometimes other fillers will leach out onto the interface, and then a surface release agent is needed to get rid of it.Theoretically, a metal die-casting release agent should have a high tensile strength so that it is not easily abraded when in regular contact with the molding resin. This is especially true when the resin has abrasive mineral fillers or glass fiber reinforcements.The metal die casting release agent should have chemical resistance so that it is not dissolved when in contact with the chemical composition of different resins (especially styrene and amines).The metal die casting release agent should also have heat and stress resistance, not easy to decompose or wear.Metal die casting release agent should be bonded to the mold and not transferred to the processed parts, so as not to interfere with painting or other secondary processing operations.
Metal Die Mold Release Agent Application
Our
Metal Die Casting Mold Release Agent
can be applied to various surfaces. Following are some examples;
Automotive
Aerospace
Electronics
Options for die Casting Release Agent
Meiyahg takes pride in offering different options for die casting mold release agent:
Water-based lubricants
are the best option for standard casting as they provide both, a release agent and also function as a cooling medium.
Oil-based spray
is a great option if you are going to paint or plate the component. The oil-based lubricant not only provides a necessary release agent but also contribute to an increased die surface temperature, which lends itself to high-quality cosmetic finishes and increases production yields. However, it does not offer the same level of cooling which water-based does.
Sakurai Metal Die Casting Mold Release Features
The major concern with die casting is the porosity of mold release. Porosity is linked to the die casting process but Sakura works to reduce porosity on many levels, beginning with the component design. Our toolmakers and engineers design proper venting and overflow to minimize porosity. Here are the benefits you Sakura
die casting mold release agent:High-pressure Die Casting Release Agent
Brilliant lubricating and cooling properties.
Extraordinary stability and effectiveness at high mold temperatures.
Antibacterial and anticorrosion properties protect the diluted product from bacterial growth in spray heads and sumps.
Highly compatible with recycling systems and recirculating and ensure easy treatment of residues.
Compatible with any kind of water quality and any type of lubrication system used.
Ensure the prevention of pipes and nozzles clogging.
Ensure avoidance of intermediary treatment steps between the casting and further finishing procedures.
Low-pressure Release Agent
Optimum adhesion of the film plus long-lasting coating.
Products are compatible with any kind of water quality and easily dispensable.
Optimum thermic insulation properties.
No VOCs (Volatile Organic Compounds).
No toxic fog or vapors generated.
Easy treatment of produced residues
Release Agent For Forging
Excellent wettability: protector film generation at high temperatures.
High lubrication.
Product customization.
Easy cleaning of the over-sprayed product on the press.
Compatible with any application system: direct, pre-coating, dipping,
Aromatic-free formulation.
High product solidity during storage.
Meiyahg's specialized
die casting mold release agents
are exclusively designed in a way that they provide the customer with the following benefits:
Smooth Flow

: Sakura die release agent facilitate the smooth flow of the molten metal to provide and ensure a homogeneous distribution and an optimum filling of the part.

Easy Release:

Our products ensure homogeneous coating of the die surface to facilitate easy extraction of the part.

Faster Cooling:

Our die casting mold release agents optimize the external cooling of the die due to the exclusive additives that allow for a cycle time reduction.

Ideal Lubrication:

Sakura die casting mold release agents to ensure permanent lubrication of moving parts of the die such as ejectors and pins to make sure the right functioning in any working condition.

Optimum Protection:

Our products extend the working life of the die and its moving parts plus avoid metallization and premature oxidation for optimal protection.

Superior part release:

Meiyahg specializes in die casting release agent formula that provides a faster release and optimized part quality.  So, you will get reduced down time with fewer defects irrespective of the molding process.

Minimal Transfer:

Meiyahg customized die casting release agent is formulated to create a durable, even and a robust film on the mold surface ensuring minimal transfer to the part. It ensures that secondary processes such as gluing or painting, do not get affected also reducing the need for time-wasting clean-up.

Less waste and Cleaner final products:

Our die release agent is designed to give your products a cleaner separation, so as a result, there will be fewer damaged raw materials throughout your operations. When you use Sakura die casting lubricants, your end product will have less residue and proper cleanliness, which will result in optimized surface finish and functionality.

Lower defect rates:

Our die casting release agent formulations are impeccably balanced, guarantee durability, deliver optimum surface slip, and minimal build-up.  Therefore, the molded parts are manufactured more consistently and with a high level of efficiency.
So, you get:
Cleaner molds
Less downtime between molds
Little/No VOC emissions
Promotes excellent surface finish
Higher active content that improves release characteristics
Wide range in permanent evolution.
Product customization.
Increase in productivity.
Meets different environmental and safety standards.
Easy cleaning and easy treatment of the generated residues.
Guarantee of success.
Plus Meiyahg ensures that:
Products are sold directly to factories
Quick shipping
Immediate technical support
Over the past 43 years, Meiyahg has adhered to excellent quality and attentive service, winning the trust of the customers. Our robust, uniquely formulated products have been developed to serve as die lubricants that meet or exceed our clients' expectations, all with a goal toward delivering better results and processes. So, switch to Sakurai and experience higher productivity and profitability through increased acceptance rates, reduced downtime, and enhanced part quality, whether you are a large or small manufacturer.