Details About Concrete Release Agent
Our company has launched this high-efficiency concrete release agent, which is made of water-based polymer film-forming material as the main agent and a variety of active additives through scientific processing technology. The concrete casting release agent is stable and superior in performance. It is a high-performance concrete demoulding material necessary for creating high-quality projects. The water-based concrete release agent is applied to the construction formwork before the concrete is poured so that the formwork will not stick to the surface of the concrete after pouring, and it is not easy to remove the formwork or affect the smoothness of the concrete surface.
Item: MK-CR Concrete Release Agent
Brand: SAKURAI
Model: MK-CR
Appearance: Milky White liquid
Solubility: Water-based
Packing: 25L/200L per drum
Supply for: Concrete Products Factory etc.
Process: General Concrete Products and High Demanding for Post-processing
Performance: Good lubrication, Stable Release Performance, and Easy to Clean, not Affect Post-processing
Usage: Spray or Manual brush
MOQ: 1000KGs after FREE Sample Trial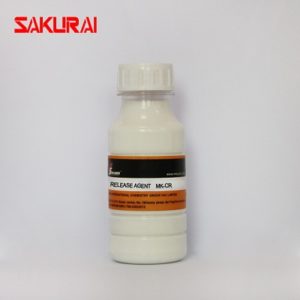 MK-CR Concrete Mold Release Agent
Application
Water-based Concrete Form Release Agent MK-CR is suitable for aluminum, steel, resin, ABS plastic molds, woods, and other material molds concrete formwork.
Product Features
Aqueous polymer composite concentrated material through the unique formula milling and processing of environmentally friendly products.
Excellent isolation performance, easy disassembly.
Quickly into the model, resistance to water scour, protect the mold.
Concrete surface clean, smooth and no pollution.
Protection, prolong the service life of the mold.
Why Choose SAKURAI
Leader of Mold Release Agent Manufacturers with over 20 Years of Experience. High Technology& Formula From Japan to Provide The Highest Quality Mould Release Agent For Concrete.
China Factory Outlet&Save Cost. With Monthly Output Capacity 600 Metric Tons.
Delivery Time: Free Sample Delivery By FedEx/DHL/TNT air cargo within 3~5 days in general; For Bulk Order Concrete Mould Release Agent, Delivery by Sea Transportation within 30 days after the payment confirmed
Experience in supplying Pakistan, Egypt, Turkey, Thailand, Vietnam, India, Indonesia, South Africa, etc.
Average 10 Years Experience of Technical Team, to Provide You With Timely After-Sales Service