Introduction:
No matter the type of molding you do – industrial or otherwise, you always want to ensure your products are correctly released from the molds. There is great satisfaction when your product has no cracks, blemishes or does not stick. These production issues can make you mad even if you are the most patient person on earth.
The good news is that the market has special products designed to help with these kinds of problems. You can savor the satisfaction of perfect products by learning how to use mold release sprays. These chemical products prevent materials from bonding on each other's surfaces.
You can use a release agent and still experience imperfections on your finished product, which can be frustrating. However, with practice and discipline, you can quickly achieve the perfect release from your molding projects.
Besides knowing how to use mold release sprays, it is also crucial to work with experts who know and understand the importance of effectively preventing parts from sticking to a mold, irrespective of the material.
There are competitive release spray manufacturers with excellent reputations for making the best release agents and sealers.
How to Effectively Use Mold Release Spray for the Perfect Release?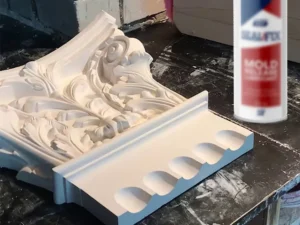 The following tips are crucial to using mold release spray effectively.
Clean Your Mold Thoroughly
To effectively use a release spray, it is important to start with a clean mold. To achieve a perfect release in your molding operation, be keen to remove any trace of cured resins, debris, dust, dirt, and other contaminants.
You can use a high-quality cleaner to get into the crannies and nooks to clean every corner of your mold. Use a cleaner that evaporates and dries quickly and leaves no residue on the surface of the molding.
Starting with a clean mold is essential. It enhances the release spray performance and causes your mold to last longer. If there is a buildup on your mold, its quality suffers greatly. To achieve the perfect release, clean your mold thoroughly every time.
Get the Right Mold Release Spray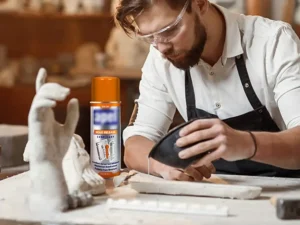 Various moldings require different mold release sprays. To get the perfect release, choose an appropriate release agent for the project. The various molding industries include thermoplastic, rubber, polyurethane, and composite molding.
When choosing the release spray to use, select the one that optimizes release cycle time, creates a consistent finish, and does not leave a lot of scrap parts.
If you are in the industrial molding, avoid mold release sprays such as mineral oil and petroleum jelly. These are not potent enough for complex molding jobs. Industrial molding usually has abrasive compounds that can damage the surface of your mold and affect the lifespan of your tool.
How Much Spray Do You Need?
Once you have done the first two crucial parts, it is time to learn how to use the mold release spray. The first thing is to determine how much spray you need, which primarily depends on the type of molding you are working on.
Other factors in determining the amount of mold release spray you require include:
The types of resin and other materials
Your mold temperature
The appropriate pressure you need to complete the molding
These factors will determine how much mold release spray you need. Testing the mold is the perfect way to determine the amount of mold release spray to use.
To test your mold:
Apply the average amount of release spray and observe the parts of your mold that release easily.
Keenly observe to note when sticking occurs and where it begins.
Repeat the first step to verify your outcomes.
Add the appropriate amount of mold release spray to enhance the results.
Using too much release agent will damage your mold. If your final product is greasy, you applied too much release spray. If the parts are slippery, you used the appropriate amount of release agent. A light coating usually works magic.
Follow the Instructions to the Letter
Another way to ensure you achieve the perfect release from your mold with the best surface finish is by using the proper application techniques. This includes keenly following the instructions on the mold release agent. The exact approach to use on every molding project relies on several factors.
Generally, you must ensure your mold is at the proper temperature before applying the release spray. It should be between 100 and 170 degree Celsius. Spray evenly across the mold, each time overlapping by 50 percent, and avoid using too much of the release spray. Usually, a thin coating works best.
How to Choose the Best Mold Release Spray?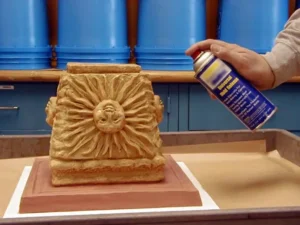 There are various types of mold release sprays on the market. The common ones include water-based, solvent-based, silicone, and non-silicone mold release sprays. These release agents work best for various projects.
To ensure you have the right mold release spray, consider the following factors.
Instead of using a special spray for every project, you can purchase a universal mold release agent. Universal release agents help you to maintain the same chemical compound for all your projects, which minimizes contamination and increases efficiency.
When post-molding bonding is required
If your mold involves bonding afterward, you need a release spray with Polytetrafluoroethylene. And if you need to decorate or paint your parts after molding, consider water- or solvent-based release spray.
When you need a quick and fast-drying release
If you need to push your project timeline by reducing the mold release time, consider a mold release spray with a quick-drying formula. The best sprays for quick releases are solvent-based and non-silicone release agents.
If your molds are in the food and beverage industry, you must follow strict output standards. You have to use food-grade mold release sprays approved by the FDA.
Conclusion:
Achieving the perfect mold release should not be as complicated as everyone makes it sound. However, it requires you to follow strict procedures to achieve the best results. Give your molding team the best mold release sprays, and enjoy the satisfaction of successful releases every time.