SAKURAI Mold Release Agent for PU Shoe Soles, PU footwear, PU slipper and PU sandal, includes water based and oil based type. The quality performances are stable demoulding force, smooth surface finished, easy to release and without side-effect for post processing, such as painting and adhesive process.
PU Shoe Soles Release Agent MK-PU-111 (Oil Based)
Description
Sakurai MK-PU-111 oil based release agent for PU shoe soles,efficiently added polymer chemicals compounded to meet lubrication and gloss appearance, has excellent release force and moulding protection,so that it has unique lowest surface tension, sprayed on the mold has good adhesion.Widely used in polyurethane,polyester, polyether, and other single-density PU shiny shoe soles.
Features
1.Environmental health harmless to human body without bad smell.
2.Non-stick mold,excellent release properties and higher release times.
3.Improve productivity:Protect the mold from carbon deposition,more than 10,000 release times without white residues and less to clean the mold.
4.Product surface is easy to clean, does not affect any after-processing such as painting, varnishing and adhesion.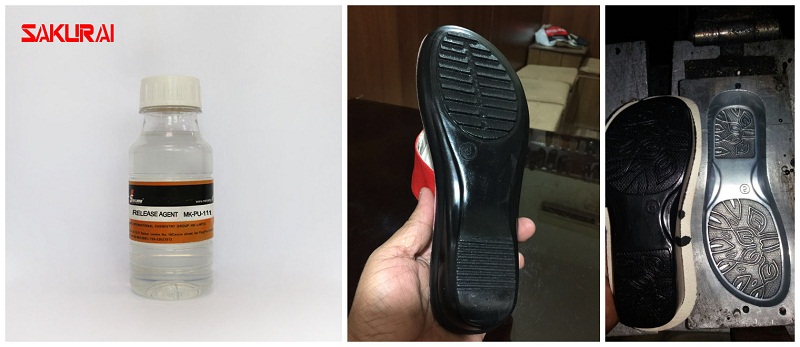 PU Shoe Soles Release Agent MK-WB309 (Water Based)
Description
Sakurai MK-WB309 PU shoe soles release agent is mainly used for requiring post-processing of polyester & polyether PU shoe sole, with water as dispersion medium,the dispersion is good.it does not contain any toxic substances,easy to spray, good ejection force, good weather resistance, stable storage performance, no corrosion on the mold surface,no dirt white phenomenon,especially in favor of the product after processing like painting,varnishing and adhesion.
Features
1.Reduce build-up on mold surface and control transfer to the molded products.
2.Lower scrap rates in molding operations to increase productivity.
3.Help to achieve post-processing (adhesion, gloss varnish, paint etc.)